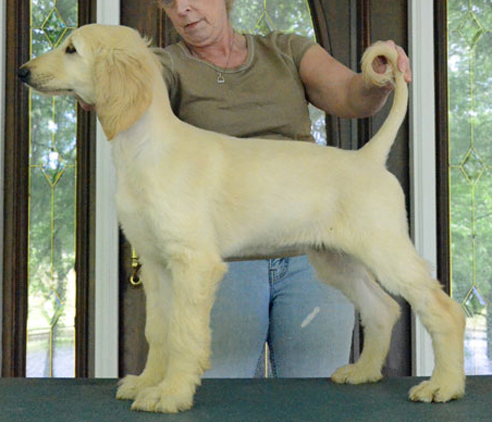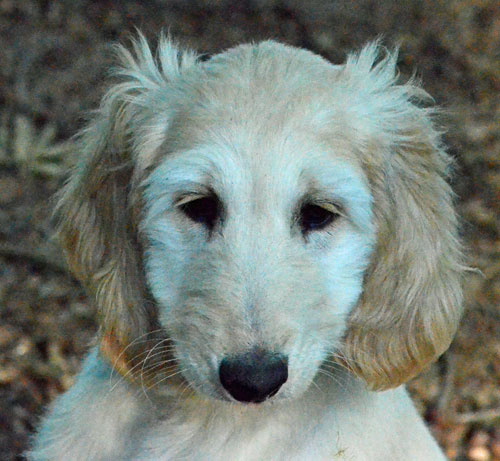 Elan and Sebring are offering a top quality young bitch with an
amazing pedigree to the discriminating buyer and breeder. This is
a rare opportunity to make a smart investment into your breeding
program and life. This lovely cream puppy represents the most
recent exciting litter at Elan Sebring, displaying the unmistakable
"look" of an Elan Sebring Afghan Hound. Her carefully planned and
unique pedigree incorporates nationally and internationally acclaimed
bloodlines from the US, Sweden, Germany and Australia. Her outstanding
conformation combines bone and substance along with refinement and
elegance. She has gorgeous black pigment of nose and eyes, a lovely
headpiece, level topline and perfect ring tail. Her movement is as balanced,
effortless and sound as you would predict. Elan Sebring Afghan Hounds
have proven themselves to be successful in the show ring and even more
importantly have many proven generations of healthy, genetically sound
Afghan Hounds with amazing temperaments that adhere to the standard.

Priority given to experienced permanent loving show homes.



by SBIS Ch. Tell's Elan Sebring The Womanizer (Player) x Ch. Elan Sebring Flamenco (Scarlet)