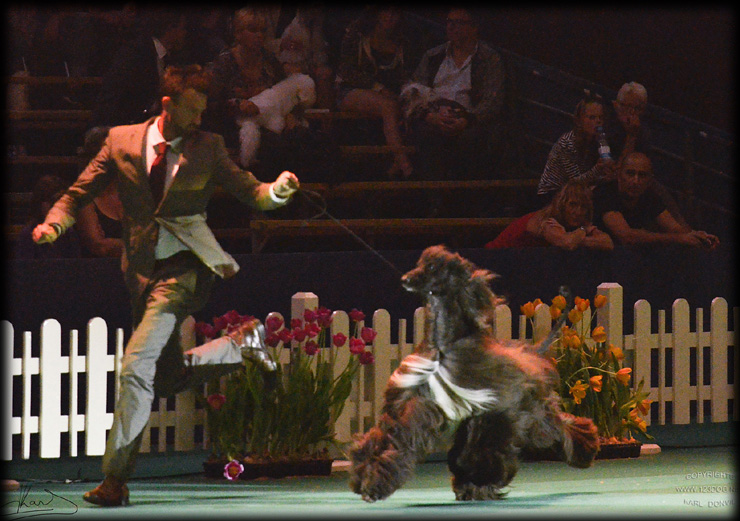 (Multi-SBIS Ch.Xenos Comment X Multi-NtlBIS Ch.Khafka's Hot Spice)


Watch for this stunning showman soon in the US, representing
Germany/BIS EDS 2011 at the Eukanuba World Challenge in Orlando !


His achievements in Europe so far, 5 yrs. old :

International, German, VDH, Swedish, Danish, Norwegian, Nordic,
Belgium, Luxembourg Champion
Started his Championships in France/Austria/Switzerland
Germany's No. 1 Afghanhound 2010
FCI European Champion 2011, Groupe-1 , BIS (entry plus 7200 dogs)
VDH Bundessieger 2011, Groupe-1 , BIS-3 (entry plus 5300 dogs )
Multiple Landessieger
Multiple SBIS, Groupe-Winner and Multiple All Breed BIS Winner
3 x BOS at the Nationals in Sweden, Belgium, France
(Every time BOB to an Agha Djari's Bitch)


A true stallion , always performing at his best, perfect head and eye,
rock hard level top, long, strong neck, keeping his outline on the stack
AND on the move.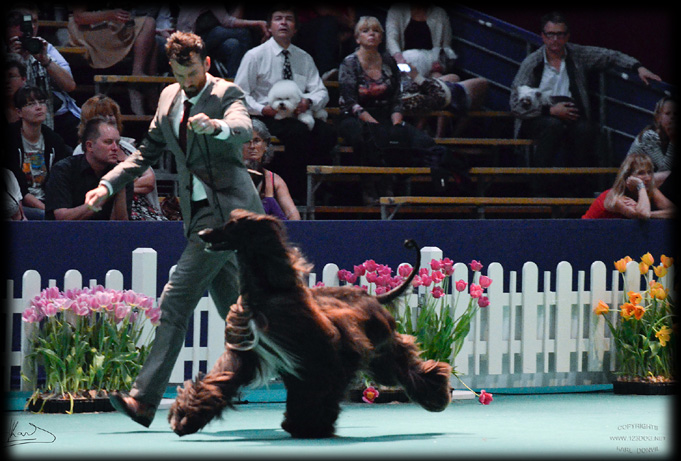 " Not only a beautiful show dog, also beautiful to go over … !

(critique from Roberto Posa/S, Oct. 2011, Bundessieger; BOB, BOG, BIS-3)


Colin's first litter, at Tells , now 3 yrs.old, contains the current No.1 afghan
Sweden , Skokloster BIS Ch.Tells Chills N Thrills, "Carlos" and
USA SBIS Ch, WD US Ntl.Tells Elan Sebring The Womanizer , "Player".
Colins's 2nd litter, here at Agha Djari's , now 7 months old, will have his
debut in Juniors in 2012 ! We are very excited about his kids, and
can't wait to show them.


Owners : Rosemarie & Hermann Bauss/Germany, Camilla Tell Collinge/Sweden
Breeder/Owner/Handler : Stefan Boieck, Agha Djari's, Handler : Andreas Franz