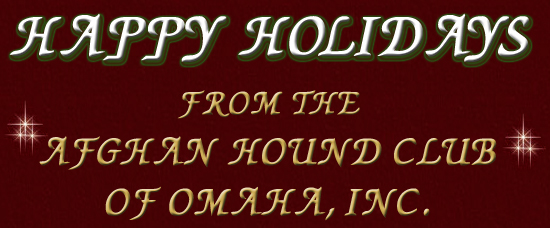 Wishing all a Happy and Blessed New Year
from some of our members.
Connie, Bruce, Vance, Patrick and Fran,
Alex, Peter, Cathy, Sandra and Gary.

You Are Invited TO JOIN US ONCE AGAIN
FOR MAJORS at the
AHCO, INC. SPECIALTY SHOW, NOVEMBER 2012.








REGULAR CLASS JUDGE: MR. ROBERT GODFREY, REGIME AFGHANS


SWEEPSTAKES JUDGE: MS. SANDRA COFFMAN, FAR EAST KNLS

This show will be held in conjunction with the two Nebraska Kennel Club
All Breed shows IN THE STATE OF THE ART Q-WEST FACILITY IN
OMAHA, NE. ONOFRIO SUPERINTENDENT.