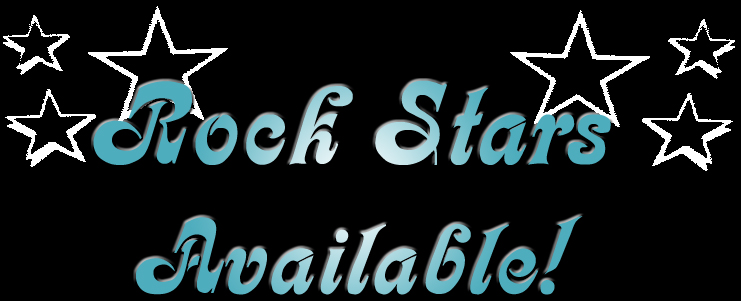 ____________________________________________________________________

Sire: World Group Winning Am. Can. & Mex. BIS Ch. Elmo's Men Are From Mars
Dam: Ch. Elmo's Rock Star Evanescence.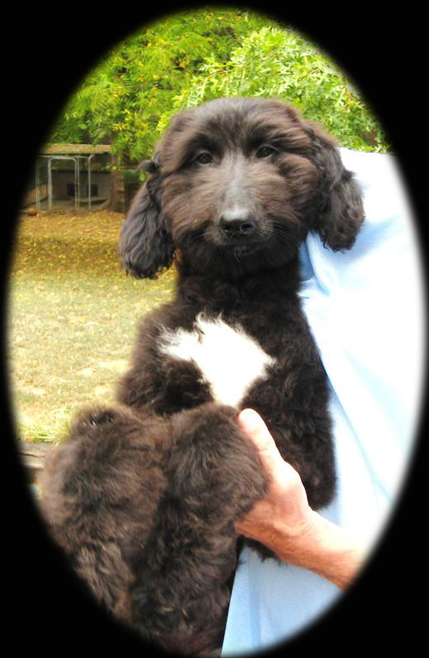 Two top quality, very promising SHOW PUPS. More important, they are
beyond that. These pups are pre-potant BREEDING STOCK based on
limited Elmo lines on the bottom and refreshment lines on the top. At 5 mos
old, both male and female are just about ready to go into the ring and win
MAJORS! Pls forgive and see beyond the poor photos. With little photographic
help here I'd rather show you these substandard photos of fantastic pups
rather than just the opposite.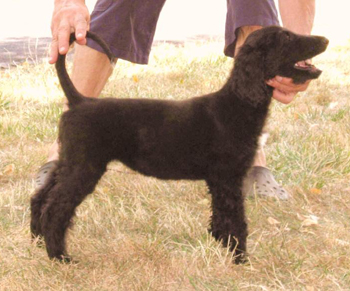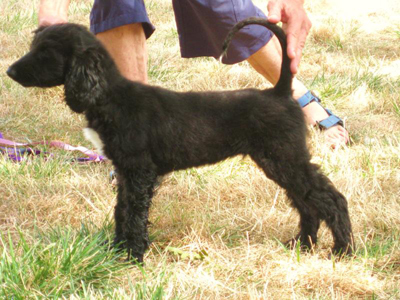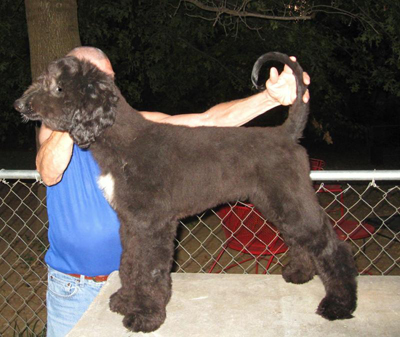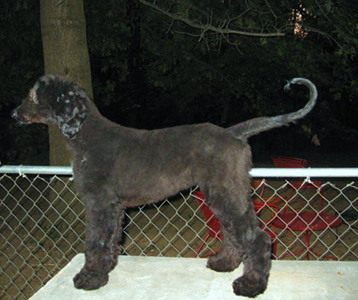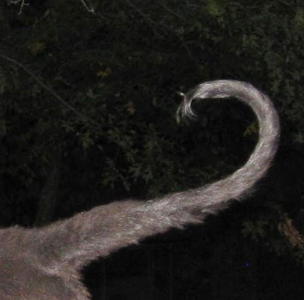 AFGHAN HOUND TEST & EDUCATION
(for the dummy, expert or even the breeder judges):
1. Black?
Answer: NO. Blue! The steel blue color popular in my line is born black,
then gradually mists to a dazzling steel blue.
2. Posed and stacked to perfection by a handler?
Answer: NO, just gently positioned in their natural stance.
3. Short neck?
Answer: NO. The two inches of UNREMOVED hair above the shoulders exists
and should never be removed on a puppy OR any Afghan Hound.
4. High rears with no angulation?
Answer: NO. PROPER top and croup angulation is not suppose to be dropped
at this age, as if a miniature adult.
5. NO muzzle length and refinement?
Answer: NO. The unremoved hair on the muzzle and sides of head camaflouges their
refined heads, it does not mean a short muzzle or a wide head.
6. No saddle?
Answer: NO again. The unremoved hair on the back does not mean no saddle and should
never be removed until the hair drops out naturally. These are Afghan PUPPIES Dummy!
7. Not A good RING tail?
Anwser: NO, definitely! These tails are natural age-appropriate PERFECT. Afghan puppies
this young do not have ring tails. At birth their tails resemble a limp or strong string. As the
pup matures the ligaments become stronger and a curve or ring will develop if that quality
has been bred into the line. The Standard clearly states "having a ring OR curve on the end".

Now that you have taken the test, click to the Archives Ads of their PARENTS and
see what they will look like as adults.
Daddy Dearest,
Peter.

The results of the last pups (below) I offered for sale have actaully been
much more than even I had predicted.

Ch. Elmo's Martian Chronicles (Martin) has, in just a few months, skyrocketed
to NUMBER FOUR ON THE CHARTS in the USA. After finishing under the
capable hands of Ms. Sarah Rodriquez, Countrywind's top pilot Catherine Harker
amazed Kansas City to see Martin win the large Hound Group over many
Professionally handled Best in Show and Westminster Hound Breed winners at
one of the most prestegious midwest shows west of the Mississippi.
Congratulations to Catherine and all involved.

Ch. Elmo's Gucci on Mars (Guch). finished fast winning BIG ENTRY Breed Wins
from the classes over Top Five champion Afghans to the pride of owners
Ret. Ltc. Gary and daughter Juanita Colonna.

Ch. Elmo's Thirty Seconds to Mars (Rafiki), this striking ice blue and pure white
domino (from a non-domino line. black pigmentation) won BIG ENTRY shows
under the careful guidance of the Ashante team of Jen Trinque and Sharon Lewis.



There is no better time than now to PUSH your limits. Rush to a device and convince
me that you are the person one of these pups deserves to live with for a life time.
I will do my best to get one of them to you within your price range. Remember, buying
an Elmo Afghan does not cost. It PAYS (repeatedly)! They finish fast. This means less
financial liability regarding show motel bills, food, gas, entry and handling fees while
the assets may point to attractive marketability demands regarding sales & stud fees.

Thank you to Alice and Jerry Hasting for suggesting, then jointly
breeding these beauties with me!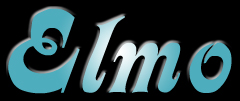 Yesterday, Today and Forever

Peter Belmont, Jr.
Sole Owner
belmont2u@att.net