We would like to introduce to you our handsome boy,



who thrilled us by going WD at the Richmond
AHC for a 5 point major under judge David Cochrane !!!
Joey has proven to be not only the best housedog and companion
that Eddie and I could have wanted, but also a consummate
showman, displaying the great heritage to be found in his pedigree.
I was the handler of Joey at first, and then the talented David Osuna
even lent a hand at the Afghan Hound Club of St. Louis where Joey
went BOSS. However, when Eddie started handling Joey, it became
apparent that they were becoming a team to reckon with, and
their deep bond and love is evident.
Lucia Brown of Dragonfly Afghan Hounds, Joey's breeder, has been
instrumental in mentoring us and has always been there to provide
knowledge, humor, and advice.
Here are some of Joey's most memorable wins: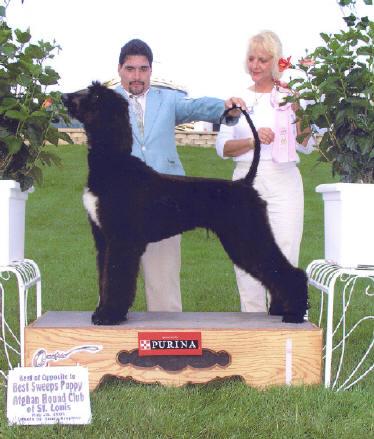 Winning BOSS from the 6-9mos. class under judge
Robin Ziegler-Wochner at the AHC of St. Louis in June 2004.
Photo: Jan-Jhan's Graphics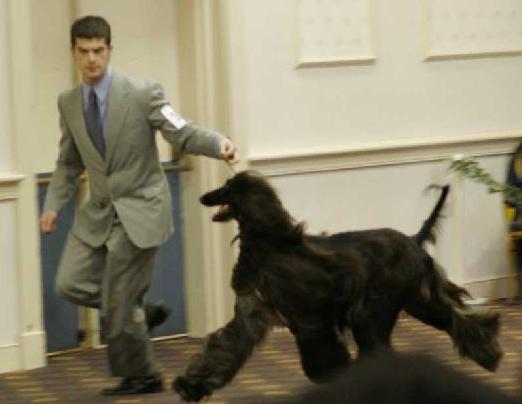 Moving beautifully at the Tidewater AHC in March 2006.
Photo: Michael Graat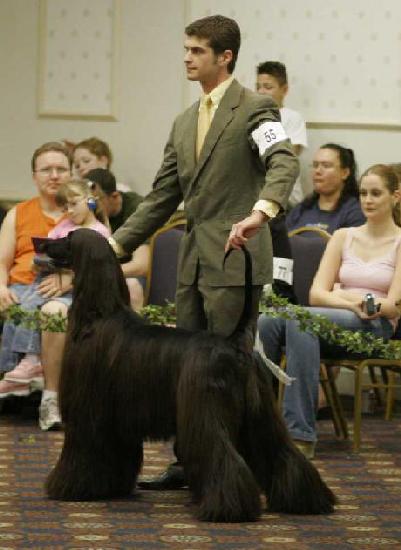 Stacking regally at the AHC of Richmond in March 2006.
Photo: Michael Graat


Joey is a BOB winner from the classes, over a group
placing special (Judge: Mr. Tom Kirstein).
Joey is an All Breeds BIM winner, winning this honor at the
Birmingham Kennel Club Sacntioned B Match January of 2005
over an entry of close to 100 dogs.
Joey has been recognized at almost every single specialty
that he has been entered at, under various judges.
Joey is looking for that last major.