Memorial Day
Is to remember the ones we lost.
Baja Afghans
Would like to Honor the ones I've lost.

"Candy"
??? - April 13, 1988

Candy was my first Afghan Hound who was a rescue that I adopted
December 1985 from Animals In Distress of Allentown, PA. Candy was
the typical Afghan and she taught me that this was the breed for me.
---
Mazshalna's Twilight Aurora CGC
"Randy"
November 24, 1986 - August 21, 1996
Randy was my first Show Dog. He was the best, always a happy
silly dog. He was my little sunshine and the reason I just love
this sport. Randy was Bred & Co-Owned by Donna Bates.
---
Reizarf's High Sierra
"Bogie"
March 8, 1992 - November 21, 2004
Bogie was that dog, my heart & soul the one you never forget.
He was just the very best, too cool for words. There is not a day
that goes by that I don't think about my little sweet Bo. He is the
reason I will always have a soft spot for a cream. Bogie
was Bred & Co-Owned by Greta Frazier.
---
Can. Ch. Pokoz Dakota Blaze
"Blazer"
December 14, 1991 - December 22, 2004
Blazer came to live with me when he was 2-1/2 years old, after his
Breeder & Owner Mark Dolinsky had died. A little some of Blazer
also died that day. But I cherished the very special gift Mark
had left me to care for.

---
MBIS, MSBIS, VBIS
Am Can Ch. Splendor's Abou
"Abou"
March 2, 1995 – July 14, 2005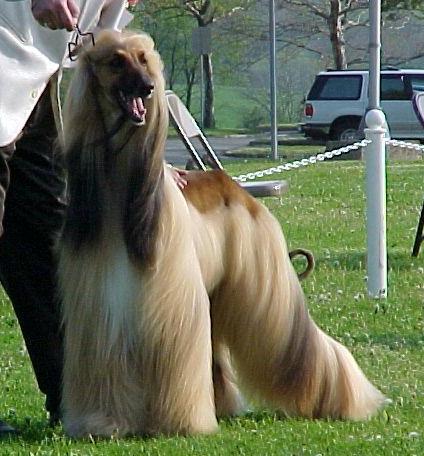 There are only a handful of Afghans known by just their call name.
I was lucky enough to have owned one of those dogs. What can I
say about Abou? He was the first dog Bruce and I owned together.
Almost every Afghan I own today goes back to him. He was my first
Champion, my first Best in Show, and my first Specialty Best in Show
winning dog. He sired my first litter, my first bred by Champion and my
first huge win at the Breeder's Cup. But that only touches a very small
part of Abou's life. He was the world's best dog to live with. He just loved
his humans. At times, I still can't believe he's gone. Last year, Bruce & I
were touched by all the emails and cards we received. It was like the whole
Afghan Hound world was morning our lost. Then in the grand fashion that
Abou was known for winning. He reached down from heaven to take his
final bow-wow. Abou won Best in Show at the second Afghan Hound
Cyber Show, defeating over 400 entries.


---
Stillwinds Baja Sassy Blue, SC
"Sassy"
Sassy was Bogie's daughter and was Bred &
Owned by Shirley Haggerty.
---
Stillwinds Baja Sadie Blue
"Sadie"
Sadie was Bogie's daughter, who was bred by Shirley Haggerty
and Owned, Loved and Cared for by Patricia Soliman.
---
They all still live in my heart and memories!


Love, Mommy

Judy Hein
BajaAfghan@aol.com