Introducing a new Champion to the
Afghan Hound world, our first champion,


Joey finished at the age of 2 and a half in style with a Winners
Dog and Best of Winners for four points at the Mississippi
Valley Kennel Club Show under judge Mr. Kent Delaney
during the Afghan Hound Club of St. Louis specialty weekend!
This exciting win rounds off Joey's class career that was
completely piloted by my husband, Eddie, with me
grooming/cheering, and includes:
BOB at 12 months of age from the classes over a Group 2
placing special (major broken by 1 bitch) at the Huntsville
Kennel Club Show in November 2004 under breeder
judge Tom Kirstein
Best in Match at the Birmingham Kennel Club
Sanctioned B Match at 14 months in January 2005
WD at the Richmond Afghan Hound Club Specialty
Show in March of 2006 for 5 points under breeder
judge David Cochrane
RWD to a major at the Salina Kennel Club Show in
April 2006 under judge Frank Sabella
RWD at the Afghan Hound Club of Southwestern
Ohio's 50th Anniversary Show in May of 2006 under
breeder judge Bob Stein

In all, Joey amassed 5 major RWDs before he won
in St. Louis, so we were all ready for that finishing
finger point by the judge. In the 10 specialties he was
entered in during his class career, he was in the ribbons
for his class at all but one of them, and his quality
has been recognized by various judges.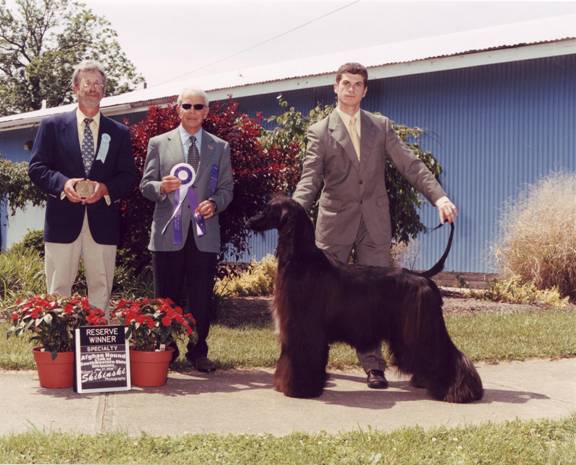 Reserve Winners Dog at the AHC of Southwestern Ohio
under Bob Stein
Photo Credit: Skibinski Photography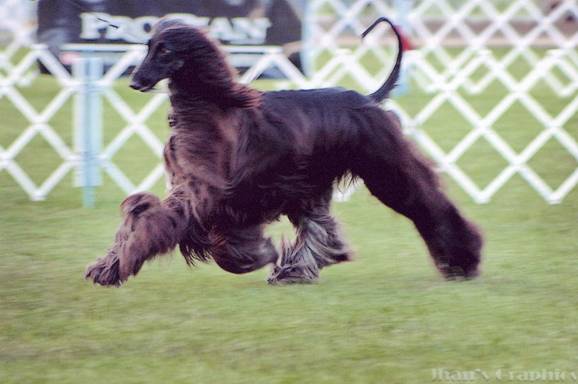 Joey moving like the stallion that he is at the AHC of St. Louis
Specialty show where he placed 3rd in a large Open Class.
Photo Credit: Jhan's Graphics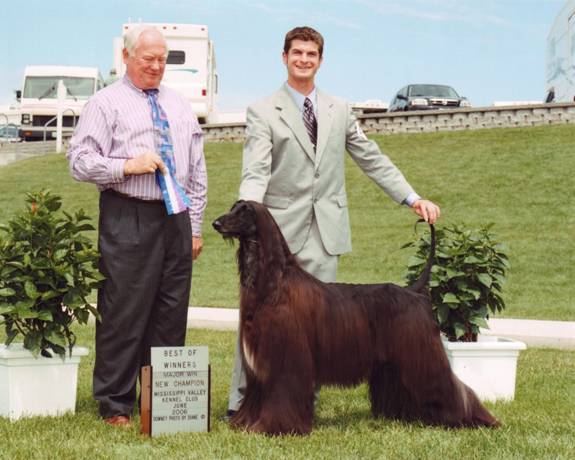 Joey's Finishing Win—WD/BOW for 4 points under
judge Kent Delaney.
Photo Credit: Downey Photo


Many heartfelt thanks go to the wonderful
Lucia Brown of Dragonfly Afghan Hounds for
entrusting us with this magnificent boy!