Dreams do come True .........

---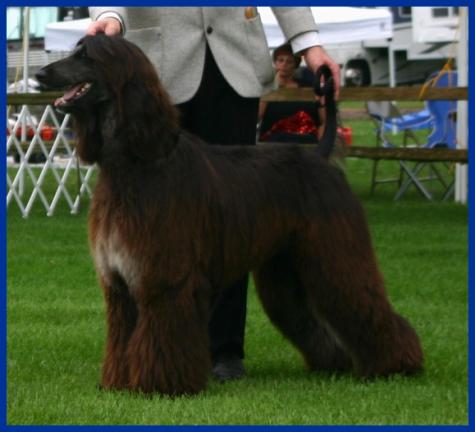 (sire/dam)
Can. Ch TopFlite Dreams Kramatir - Can. Ch Charsada Aboriginal Dreamtime
.
Best of Breed
1st major from 6-9 mos class
Milwaukee KC.... Mr. Raymond Filburn

WD & BOW
Michiana KC.... Mr. Joseph Gregory

Best of Breed
Broken Major
Packerland KC.... Mrs. Robert Smith

Best of Breed
Fond Du Lac KC.... Mrs. Judy Webb

WD & BOW
2nd major during Specialty weekend
Waukesha KC.... Diane Malenfant
.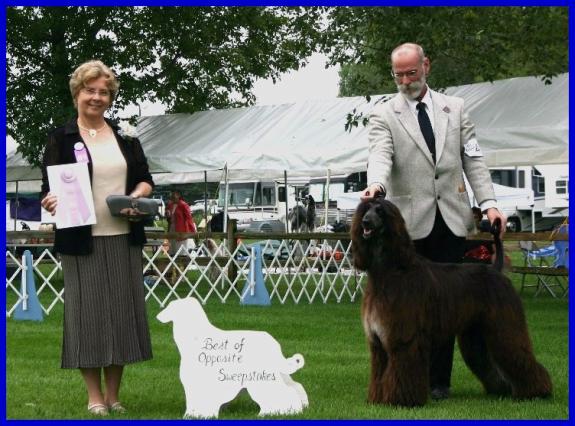 .
Dakota is pictured winning
BEST OF OPPOSITE IN SWEEPSTAKES
at The Greater Twin City Afghan Hound Club under
breeder Sandy Nelson - Karizma Afghans. Dakota received
his first major at 8 months of age & has had many major
reserves from the puppy classes. At this time he has
11 pts & both majors. At 11 months old he earned his
UKC Championship in one weekend with a Reserve
BIS under Judge Mr. Christopher Kelley.
.
Owners
Guy Bagley
Sue Russell " TopFlite"
http://www.geocities.com/top_flite_afghans
Breeder
Brenda Burns "Charasda Reg'd"
http://www3.sympatico.ca/afghansofcharsada