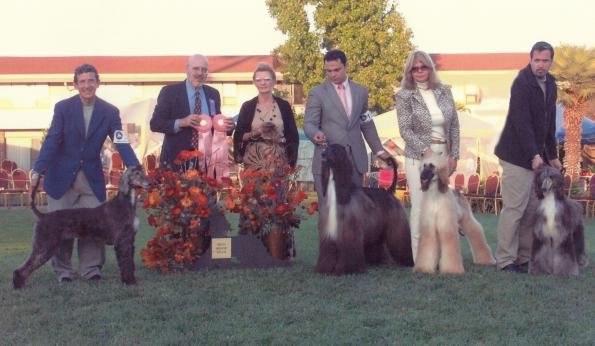 Top Brood Bitch at the National Championship under
Afghan Hound Club of America Current President,
Dr. Duane Butherus (Ararat).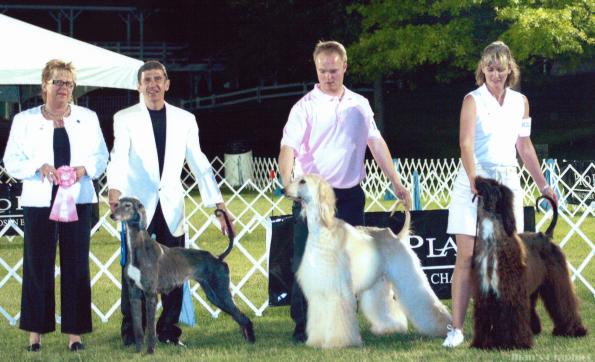 Top Brood Bitch at the St. Louis Specialty under
Powerhouse breeder Ms. Lotte Jorgenson (Boxadan).













A heartfelt THANKS to both judges.





Her dam, Ch. Elmo's Dar es Salaam was Top Producer in
the USA two years in a row.




You saw Ethiopia as a six-month-old puppy winning Group 4 at her very first
show under accomplished breeder judge Ms. Carol Reisman (Kai).

You saw her winning at the Chicago Specialty under breeder
Judge Margaret Stanski (Isemeh).

You heard about her Best of Breed win on the televised
Animal Planet Eukanuba Championship.

We've witnessed her contributions to the Elmo line through
her produce who still, at tender ages continue to win BIG, including:

Paloma Picasso


Priceless Picasso


Precious Picasso


Picasso's Rage


Pablo Picasso and


IVANA Picasso
And through others of her produce including the
Breed and Group winning sisters:


Ch. Elmo's Endless Love

and


Ch. Elmo's Everybody Says I Love You

,
the Award of Merit winner at the National under Michael Canalizo and through her son,
The # One Afghan in the USA


BIS Ch. Elmo's Men Are From Mars



Ethiopia is a Group-winning signature Elmo bitch. Her incalculable
qualities have easily elevated the Elmo line to newer heights through
her offspring. Nearing her final litter, I chose to collaborate with the
many years of discriminating bloodline preservation done by
Ms. Lucy Orlowski, Mahar Kennels. Ethiopia has been implanted
by Lucy's Tutankhamun son,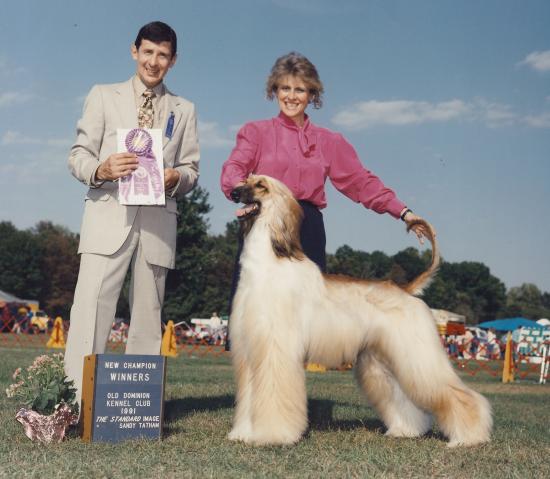 | | | |
| --- | --- | --- |
| | CH. MAHAR'S ALI KHAN, | |
Ali Khan's dam is solid Dureigh breeding, going directly back to
Marion Florsheim's original Five Mile Afghans. (Rudiki).


Consistent with my long-standing sales policy inquiries are welcome
from novice and experienced exhibitors/breeders alike. Unfortunately,
I do not have the time or the desire to fight with the airlines, so
sales of Elmo dogs are limited to the U.S.A.

All of the above points are not as important
as the fact that she is still ....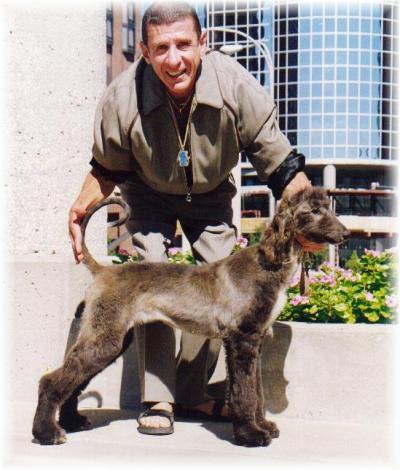 Elmo, Reg.






Peter Belmont, Jr.
Heidi Cole
Kansas City & Palm Beach
BELMONT2U@aol.com
913 721 3237, and remember,
"Call Me If You Need Me".