CHAMPION ELMO BITCH FOR SALE

Rare Opportunity
Abundance of quality has never
been a problem here and now is no
different. Because of professional
and personal limitations, I regret
offering FOR SALE a very high
quality CHAMPION Elmo bitch,
Ch. Elmo's Endless Love
(DOB 1/02/02). She is a direct
Hawkeye daughter whose dam
is Ethiopia. This bitch is OFA
EX, is proven, is a "textbook"
whelper and mother and her
offspring are already winning
big. She is in the height of her
production years, but that is
secondary to a permanent
one-on-one home.


"Darling"
She is the half sister to Picasso on her sire's side and half sister to
Men Are From Mars on the side of her dam. She is the full sister
to Ch. Elmo's Everybody Says I Love You, AOM Winner at the
Sacramento National. (See Archives)
She is not for lease, as when she leaves here, I want the move to be her final
home. She craves personal attention, human companionship and affection but
is extremely intelligent and dominant. She is very capable of training a human!
She is a larger bitch with plenty of body with a refined head that is 11 inches long.
She is fault-free in literally every area. This bitch is a gold mine opportunity for
the serious breeder/exhibitor who understands pedigree work and true
Afghan disposition. She is not for the dilettante.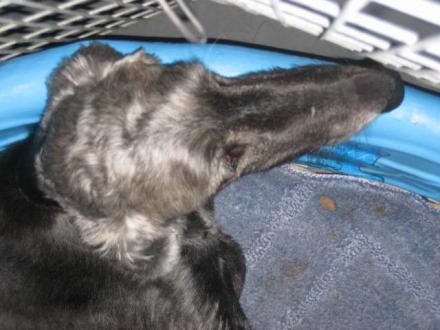 Buyer must:
1. Own enough property to allow her to employ and enjoy her double
suspension gallop every day.
2. Not have more than a sensible number of dogs (3) and NO bitches. She
loves people, children and playing ball but insists on being Top Bitch.



I have a possible breeding planned for her, but selling her outright is not a
problem. I apologize that I cannot offer her outside the USA. I do not desire or
have time to deal with airline difficulties and the various country requirements.
Elmo, Reg.
Peter Belmont, Jr.
BELMONT2U@AOL.COM