Presents



Three times Best In Field Winner(Two ASFA, 1 CKC)
Can/UKC Ch. Charsada Dreams Can Come True Am JC, AFSA FCh
"LadyBug"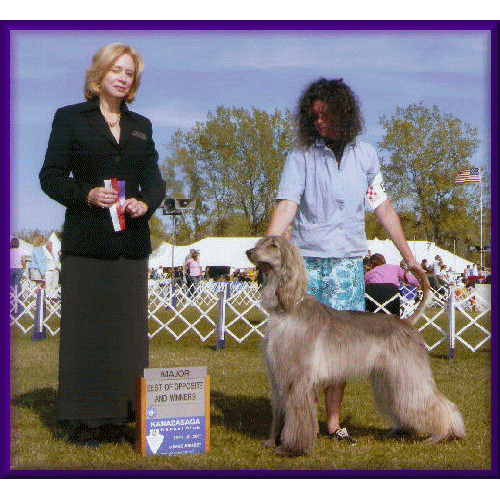 Can Ch.TopFlite Dreams Kramatir ex Can Ch. Charsada Aboriginal Dreamtime
born 20 Jun 2005
bred by Brenda Burns

"LadyBug" now has 9 points (including a 5 point major) towards
her American Championship, with very limited showing in the US.........
3 point major AKC coursing (on the same weekend) -First AKC trial-
86 points to her Canadian Field Championship
30 points for her CARA Straight Racing title
and
12 points for her CARA Oval Racing title
"LadyBug" has finished the coursing/racing season this year
undefeated in the breed on the Field for 2007!!!

We would like to thank all the believers, the Judges in the
conformation ring, and the Judges on the field- Form and Function
has not been lost!! "LadyBug" would also like to thank all friends
and fans and especially "Auntie" Jeanie Martin for without
her none of the coursing/racing would have been possible.
Like the Energizer Bunny... still going, and going, and going


Thank you everyone
Brenda and Joe
and
The Afghans of Charsada
And yes, Dreams Can Come True :-)))))