"That Black Bitch does it Again"
and now she is a????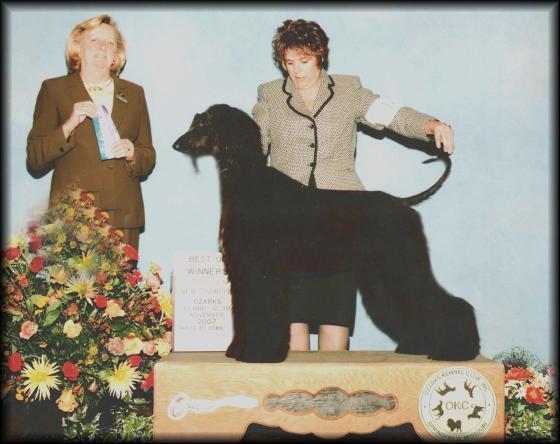 WB/BOW 3 point major
Mr. William Potter, HOUND SPECIALIST
Purina Farms, Gray Summitt, Mo. 5-5-07
RWB, 5 Point Major
Mr. John Wade, HOUND SPECIALIST
ST. LOUIS SPECIALTY WEEKEND 6-2-07
WB/BOS
Mrs. Muriel Purkhiser
Sedalia,MO 7-8-07
WB/BOS
Mrs. Susan Carr
Owensboro, KY 7-20-07
WINNERS BITCH, BEST OF WINNERS and BEST of BREED
5 Point Major MEMPHIS SPECIALTY WEEKEND 8-18-07
Judge: Honi Reisman, AFGHAN & HOUND SPECIALIST, Kai Afghans
4 point major Ms. Honi Reisman and
Puppy Hound Group ONE.
WB/BOW Mr. Ronald Spritzer, HOUND SPECIALIST 9-16-07
WB/BOS Mr. Michael Sosne, Gray Summitt 9-21-07
Major RWB Mr. Dana Cline, HOUND SPECIALIST 9-22-07 and finally
4 Point Major under
Judge: Sari Tietjen, Ozark Kennel Club 11/07.
These wins are especially valuable to us because the judges who
have "found" this remarkable bitch have great depth of experience
in HOUNDS. We want to express appreciation to Ms. Debbie Bach
who expertly handled "AMY" and took such personal & special interest
in her. Debbie, you are the BEST. And to Ms. Michele Dyer, owner of
Amy's sire. Michele's never-ending interest, enthusiasm and dedication
to this entire litter is exemplary in so many ways. Go to the A.K.C.
Website for the complete facts! No talk, just the EVIDENCE is there.
You will find that Amy's class career followed the typical Elmo pattern
of becoming a CHAMPION in VERY FEW shows, a testament to the
inherent QUALITY the ELMO Afghans possess.