ATC DANDY DRUZHEY
"Jarvis"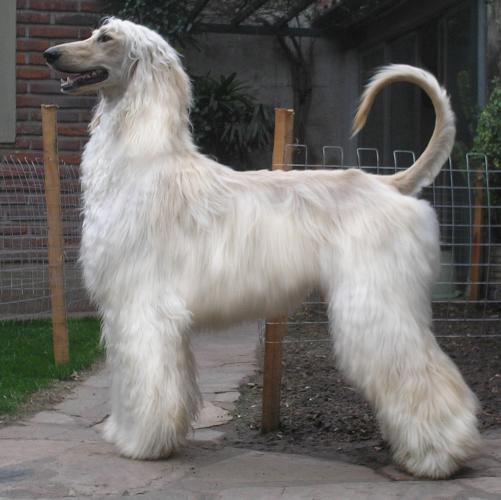 ATC Dandy Druzhey combines a most extraordinary pedigree that
represents international appeal. He is an elegant and charismatic
dog who is extremely unique. He has exceptional breed type
and is a true representative to his aristocratic heritage.
Pictured at 9 months old
ATC Dandy Druzhey is the result of the line breeding of
Arg Can Ch Endeavour´s Badshah P.I., his legendary son
MBIS Int Ch Lejaim de Ave Maria and his sisters.
His pedigree is based internationally on multiple sex balanced
crosses to Khayam´s Apollo and Mecca´s Falstaff through one of
his best grand sons; Persias Sandrift in his female line and to
Coastwind Abraxas through his daughters Coastwind Axplosion,
Coastwind Axinitra and Coastwind Laylah in his male line.

His female tail line goes directly back to the legendary Begum,
the first import from the Far East. Major Bell Murray considered her:
"…It was not until 1912 that I got the first; what I considered a
perfect specimen, "Begum", a pure white, with fine head, stately
carriage, perfect feet, and with the coat of that wonderful texture
so different to the coats of all other dogs…"
He represents therefore the pinnacle of excellence in both
phenotype and genotype as a sterling example of the
King of Dogs, the Afghan Hound.


NEWS FLASH!!!!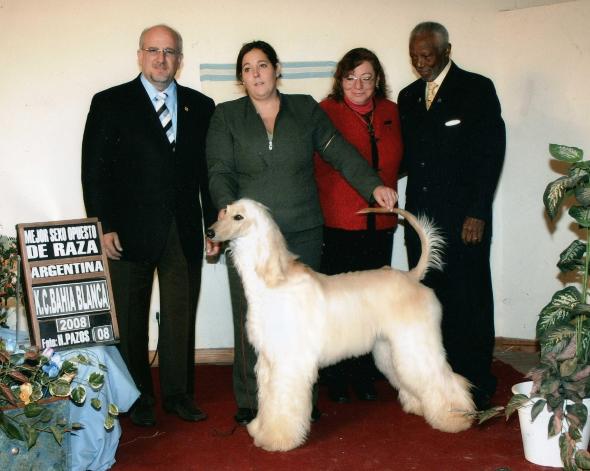 | | | | |
| --- | --- | --- | --- |
| WD, BOW, BOS | K.C. Bahia Blanca | Michael Canalizo | 8/3/08 |
| WD, BOW, BOS | K.C. Bahia Blanca | Eugene Blake | 8/3/08 |
| WD | K.C. Bahia Blanca | Patricia Alsina | 8/3/08 |


Thank You Judges for your recognition of Jarvis, praises and advice.
Bred and owned by
Pablo V. Solti
San Isidro, Buenos Aires
Argentina
pablosolti@hotmail.com
amigos@pablosolti.com.ar