---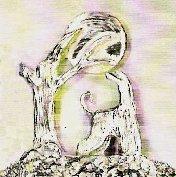 ANDROS AFGHANS

---
A persistent presence of quality that stands out, recognized
and rewarded by the scrutiny of those in demand of true breed
essence that passes on from one generation to the next,
through strictly selected breeding.
Ch. Andros D'art of Performance (Flash) wishes luck to his
daughters, recently titled and breed winner from the classes,
Ch. Xzotika Walkin' On Water, and soon to make her debut,
Andros' Love Kisses And Such.
---
Andros Say My Name (Baby) wishes luck to her kids, Group
winning, Can. Am. Mex. Wrld. Ch. Polo's Cosmic Fire, (France) and
Ch. Andros More Than U Bargain For (see further bellow) Also,
awaiting for maturity, Gazon 'Cus I Say So At Andros. Baby is now
looking after her last litter (@ Gazon Knnls.) sired by
Intl. BIS. Multi Ch. Agha Djari's Revenge Of Xenos.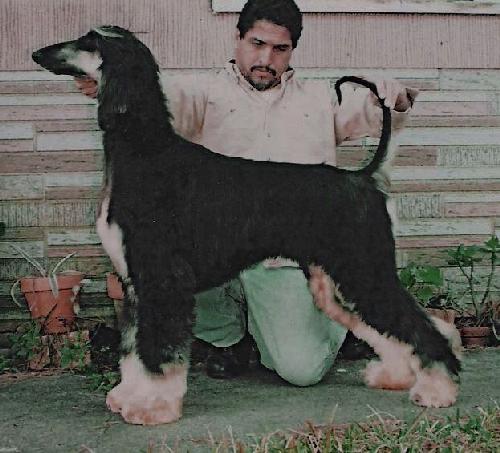 ---
Andros Mana (Mexico) wishes the best of luck to her
soon to debut kids, Andros Calami Tijuana and Andros El Santo...
---
A highly regarded addition to our program is Jovan's Speeding Ticket,
who made his first formal appearance at the AHC of G. Denver
Specialty (2008) by going WD, BOW, and Best In Specialty Show under
Mr. Richard Souza of the world famous Coastwind Kennels, followed by
Ch. Andros More Than U Bargain For, going Winners Bitch to finish her
title at the same venue, with 4 specialty majors in only
her 8th show appearance.

Already on the 5th generation of Andros Breeding, it is with the
confidence on such a proven and reliable genetic potential that
passes on, within our own program or outside bloodlines, that I
offer to those breeders that expect only the best, the following
dogs at stud (limited to selected bitches by private treaty):

Am. Mex. Ger. BISS. BIS. Ch. Andros Conquistador (frozen semen only)
Am. Mex. SBIS. BIS. Ch. Andros Cashin'on'ur Dreams (Frozen semen only)
Am. SBIS. Ch. Andros D'art of Performance (natural, chilled and frozen)
Am. Ch. Andros Cartel (natural, chilled and frozen)
SBIS Jovan's Speeding Ticket (natural or chilled)

ANDROS AFHGANS
Professional All Breed Handling
(now booking....)
P.O. Box 800392, Houston TX 77280
(713) 461-1940/(281) 300-6990
androsafghans@aol.com