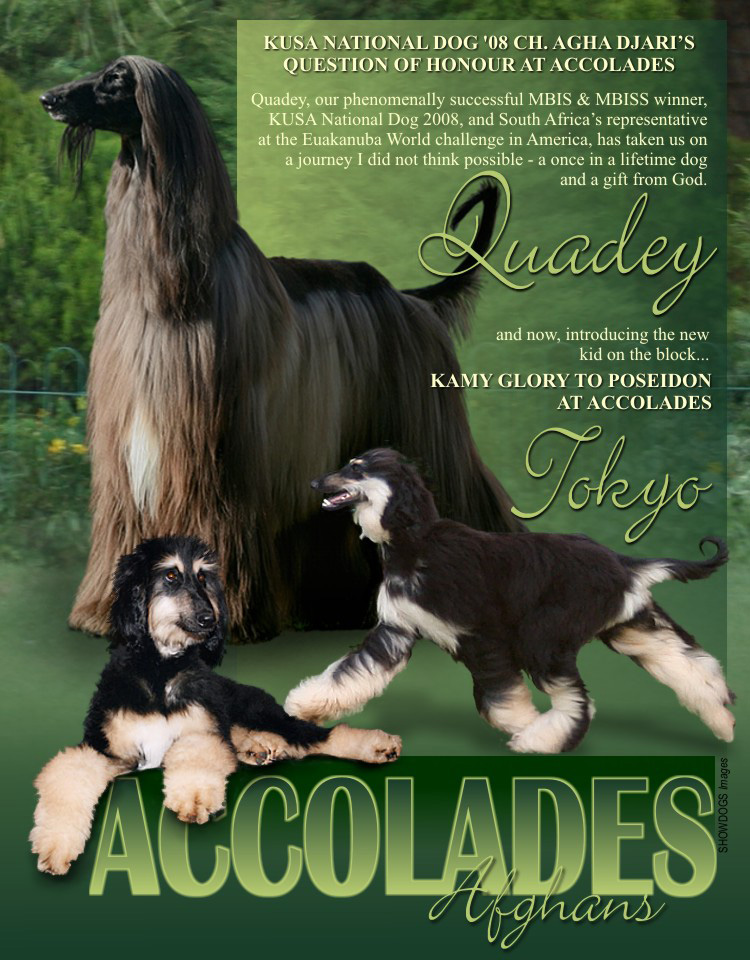 Quadey, his achievement in South Africa has been phenomenal, kicking off in 2005 with
a BPISS and Afghan Puppy of the Year. Since then, he has been Afghan of the Year for
five consecutive years and collected multiple accolades. He has wowed judges from every
continent and stolen many a dog lover's heart.
His illustrious career includes BISS at all the Hound Specialties, 17 BIS, 16 RBIS, two
times Winner and once Runner-up of the Supa 7's Spectacular, and three consecutive
years'winner of Afghan Hound of Southern Africa championship show. He has been in
the top five of the Animaltalk's Top 100 rating system for 4 years - 4th in 2007,
1st in 2008, 2nd in 2009 and 2nd in 2010.
But the time has come for Quadey to bow out of the limelight and leave a legacy behind.


To the people in Quadey's life who have made it possible, my heartfelt thanks to:

*Stefan (Agha Djari's) – congratulations for breeding the best
*Roberto (Xenos) – all honour to Marnero
*Nico, Tammy & Teri – your handling did him justice
*Jane – for giving him your heart and showing him to perfection
*my husband – living with our brat, your support made it possible
*last but not least, the people in the background, Joy for his marketing campaign,
Eukanuba and all the judges who have made it possible.
But the biggest gratitude goes to Quadey, my remarkable boy.
You are the total package.
Thank God for sending him my way.



And now, please welcome the new kid on the block
KAMY GLORY TO POSEIDON AT ACCOLADES

With pride, we introduce Tokyo our promising youngster, son of
America's Top Afghan 2007, Ch. Poseidon Of Mountain Top One.
Tokyo made his debut at a Hound Specialty in Cape Town and breezed his
way to a championship certificate and Reserve Best Puppy in Show.
A huge thank you to Teri Tevlin for arranging Tokyo's 'emigration' to South Africa,
and to Taka, who allowed him to come. We will make you proud.