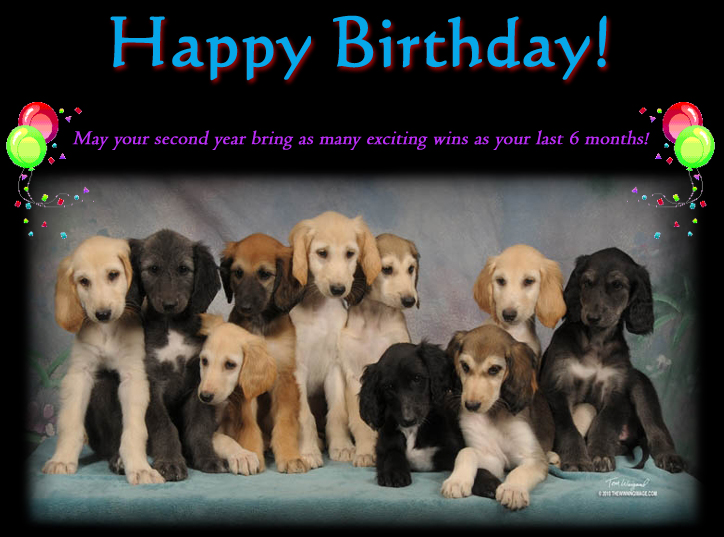 (RBIS CH. Summerwinds' Ego Trip CGC RA x CH. Lyrix Rebel Serenade)
From Left to Right:
Chichic's Gold Rush (owners: Yvette Lopez and Chichic)
"Epic" is going for the gold and keeping mom on her toes!
Watch for him in California and other shows in the Northwest this spring!
Chichic's PrAiry Claim (owner: Carlene Dowell)
"Jane" has won 3pts. with very limited showing!
Watch for her in East Coast shows this summer!
Chichic's Doin' My Own Thing (Owner: Chichic)
"LaLa" has won 6pts. with a major-all out of the Bred-By class!
UKC BIS CH. Chichic's Envy's Jewel, CGC (Owner: Susan Dimmatia)
"Ruby" has been attracting attention from many judges!
She currently has a 5pt. major with very limited showing in AKC!
Chichic's Alias Smith and Jones of Khamsin (Owner: Connie George and Chichic)
"Smitty" has been growing coat and entertaining the grandkids!
Watch for him to make his debut into the show ring this summer!
Chichic's Orianna Op De Sabbia(Owner: Sandy Johnson and Chichic)
"Anna" has been rooting on her saluki sister and taking notes for shows this summer!
Keep your eyes open for this typey domino girl!
Chichic's Boom (Owners: Shanon Emerick and Chichic)
"Renee" has a 5pt. Major Reserve with very limited showing!
Watch for her in the Alaska show circuit!
Chichic's You're The One That I Want (Owner: Dallas Nunnery and Chichic)
"Olivia" has won a 5pt. major with BOB over specials at 6 mo. old!
With very limited showing, she is ready to catch more judges eyes this spring in the Mid-West!
Chichic's Case Closed (Owner: Chichic, and Judy Winters-(ten.))
"Bailiff" has been growing coat and living the California dream!
CH. Chichic's Just Watch Me (Owner: Chichic)
"Brazen" finished at 10 months old with 3 major wins and a GROUP 4!
He is now growing coat and awaiting his debut in the specials ring!



Teamed up with Aristocracy Afghans, we are
pleased to announce the next upcoming litter
of eight promising puppies due April 21, 2011.

(SBIS CH Wynsyr Shimara The Dark Knight
X
Int. Am. CH Elmo's Star-Studded Love Affair S.C.)
Click here for more information!
Serious inquiries welcome.

Erin Davis
Chichic Afghans
chichicafghans@yahoo.com