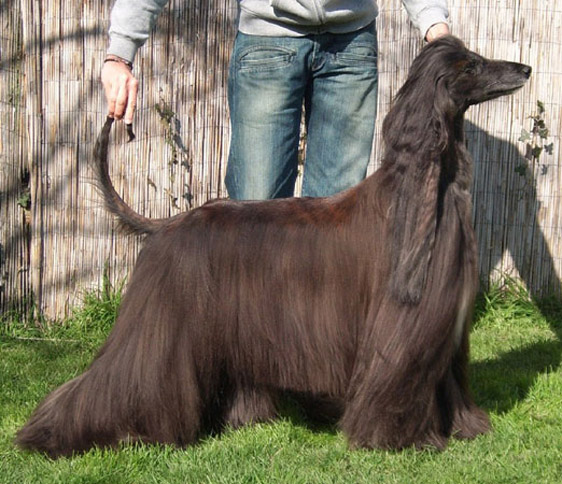 pictured at 8yrs
It's now nearly 3 weeks ago, that we lost our dearest friend, the one and only Devon.
It took me 3 weeks to write this here, as it still hurts so much , and I couldn't handle
any phone calls or emails or even look at any photos of Devon.
We all have those dogs, who are our soulmates, those dogs,
who understand you with just one look.

We are thankful for nearly 13 yrs with one of the most amazing
and gorgeous hounds, we ever met.
Her character was unique, calm, sweet, proud, aloof, never a single fight in
her whole life, never showing any aggressions, just love..
Her wins are historical , her influence in the breed will go on through all her
beautiful kids, grand-kids and great grandkids worldwide, she will never be forgotten..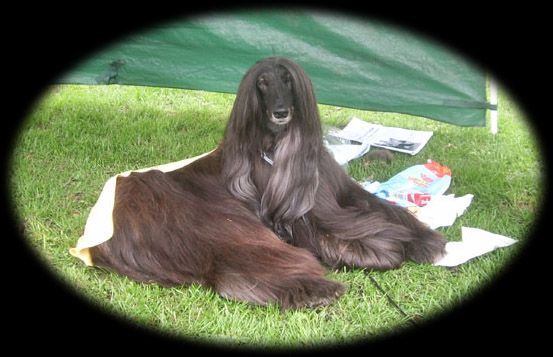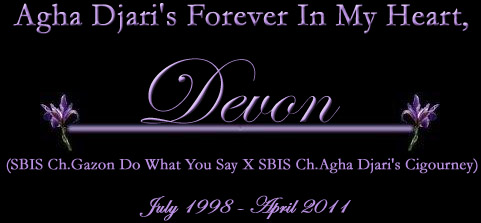 Germany's Top Winning BIS Afghan of all times
Winner of 16 Adult BIS
International Champion
German Champion
Luxemb. Champion
French Champion
Dutch Champion
VDH Champion
European Champion
Res.Worldchampion
Germany's No. 1 afghan 2000, 2002, 2003, 2004
No. 1 afghan bitch 2001 (with a litter in January)
Verbandssieger 2000 + BIS (not 2 yrs old)
Winner Donaueschingen 2003/2004/2005
Afghan Year Winner show 2004
Winster Amsterdam 2004 + BIG + 3.BIS
Landessieger Rheinland 00
Hessen-Thüringen 00/03/04
Niedersachsen 00/02
Nord-Meckl.01
Bayern-Süd 01
Bayern Nord 03
NRW 02, Weser-Ems 04,
Bdn-Kurpfalz 00/01
BIS in Donaueschingen
BIS at the afghan-year show (record entry)
BIS at the borsoi-year show (record entry)
BIS at the saluki-year show (record entry)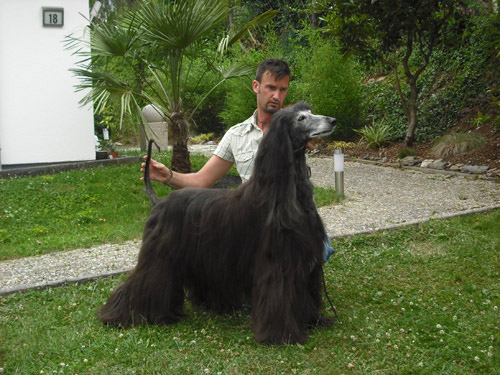 12th birthday
Her last show was with 10 yrs, and she won another Specialty BOB from the Vet-class
over Multi-Ch., and BIS-2, the judge described her as "breathtaking"…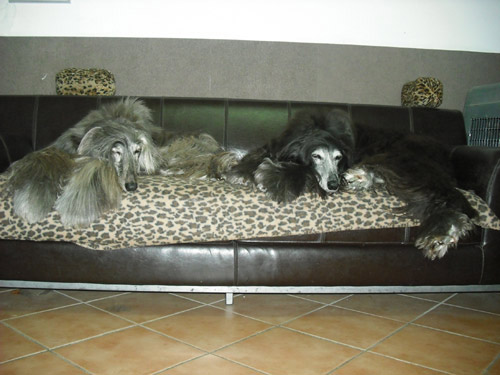 pictured at 11 yrs, with Reeva

Mother of "Reeva" , BIS -Ntl-BIS Ch.Agha Djari's Reflection Of Xenos , the double-world
champion and record breaking Ntl-BIS winner in 4 countries and mother of 7 more
champion kids in her 2 litters here at Agha Djari's.
Grandmother of "Amber", Multi-SBIS Ch.Agha Djari's Per JJ, Germany's most titled bitch in
the history of the breed , plus 28 grand champion kids here at Agha Djari's plus around 40
grand champion kids worldwide (born in USA,Sweden,Italy,Finland, etc.) with many
more to come.
Her first great-grandkids already finished their champion titles, and many more will follow.
Her legacy will go on .