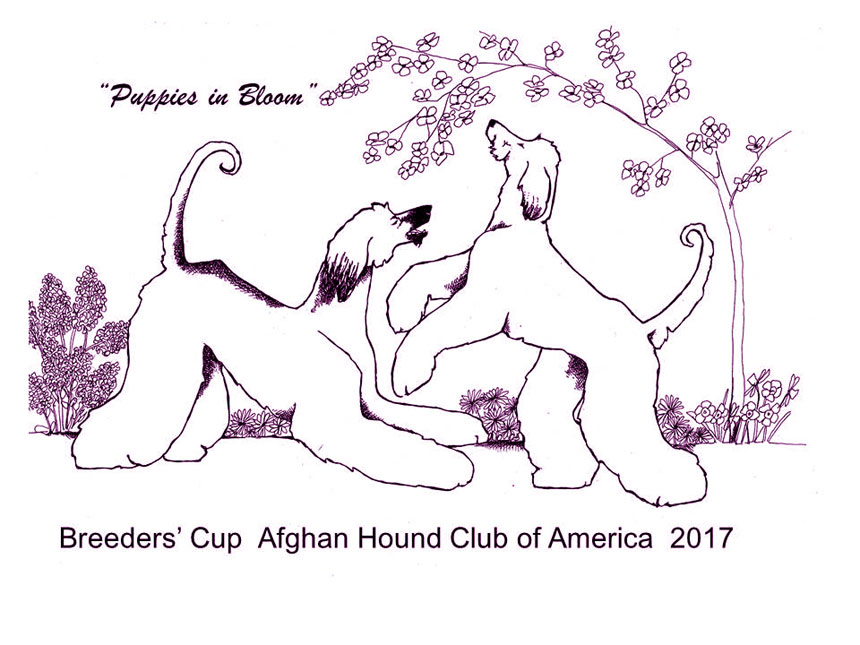 "Puppies in Bloom" The Spring Spectacular weekend is
upon us!! Come to Charlotte for the opportunity of the
year to see all the upcoming litters and exhibit at
4 specialty shows.
Our Breeders' Cup judge is the
esteemed JoAnn Jones.
The deadline for litter nominations is March 15, 2017 and the
deadline for entries is April 12, 2017.
Please check the premium list for the reduced entry fee deadlines.
CLICK HERE for Premium!

Friday, April 28, 2017 – AM – AHCA Breeders' Cup
Judge: JoAnn Jones
Friday, April 28, 2017 – PM – Carolina Afghan Hound Club
Judge: Mr. Steve G. Kelly
Saturday, April 29, 2017 – AM – Carolina Afghan Hound Club
Judge: Ms. Shelley S. Hennessy
CLICK HERE for Premium for the for Carolina AHC Specialties
Saturday April 29, 2017 – PM – Tara Afghan Hound Club
Judge: Mrs. Sandra W. Frei
Sunday, April 30, 2017 – AM – Sweepstakes, TAHC
Judge: Ms. Julie Roche
Sunday, April 30, 2017 – AM – Tara Afghan Hound Club
Judge: Mrs. Jane M. Sheppard
CLICK HERE for Premium for the Tara AHC Specialties
Tara AHC Show Secretary, Linda Lee Jackson
Linda0822@bellsouth.net


Linda Shipley
Breeders' Cup Chair
404-759-4001
Sharja@bellsouth.net